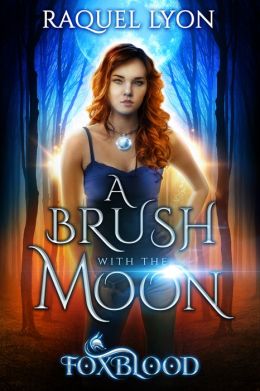 A Brush With the Moon (Foxblood Trilogy, #1)
Check out on Goodreads!
Purchase on Amazon and

Barnes and Noble

!
Synopsis:
One incident is all it takes to change your life. For Sophie it happened the day the fox attacked her.



When Sophie moves

to university

, she is finally happy; reunited with her best friend and spending time doing the one thing she loves, art.
Life's perfect. Or is it?
In Fosswell, nothing is as it seems. People are dying, secrets are big, and danger hides in every shadow. Sophie's changing too; could it be anything to do with a recent fox bite? And why does she find a creepy, old house and the boy who lives there so compelling? All becomes clear when she falls under the spell of the seductive Sebastian and learns his family's secret.
Rise of the Hellion (Foxblood Trilogy, #2)
Synopsis:
Something's stalking Sophie and it's not just her boyfriend's cute cousin.



Continuing the story from A Brush with the Moon, Sophie is settled in her new life. Things are going well. She's enjoying

university

life and her newly found independence. That is...until her mother's unwelcome arrival!
Her love life has certainly improved, but that has brought about its own complications. Her new boyfriend, Sebastian, is not human and, as if that weren't enough, his cousin, Connor, won't take no for an answer. Sophie must decide which is stronger, her loyalty to Sebastian or her growing feelings for Connor.



And love is not Sophie's only battle. Pulled from a life of obscurity and chosen to succeed a dying Goddess, the girl that arrived in Fosswell is no longer visible. Along with her new

power

and appearance changes, Sophie now has to contend with unwanted night time transformations. Can she learn to control the animal inside? More to the point, can she hide the supernatural world from her mother?
Synopsis:
Girl or goddess? Sophie has a decision to make.
With the supernatural world in a state of unrest, and her feelings for Connor intensifying, Sophie's life is out of control. She needs to get it back. But no matter how hard she tries, her desire to do what is right is faltering.
Is the chance of happiness really worth destroying her future?
One thing is certain. To realise her destiny, she must leave behind everything she loves.
Contains violence and sexual content that may not be suitable for readers under 15.
Win an ecopy of A BRUSH WITH THE MOON on the I HEART YA page!