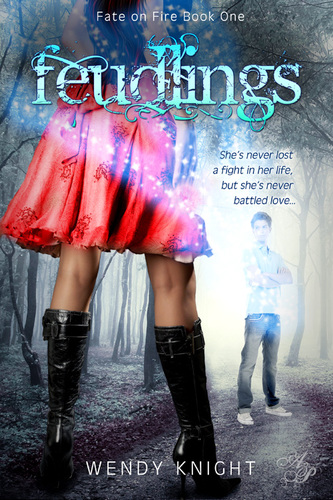 4/5 stars
Feuldings (Fate on Fire Series, #1)
Synopsis:
Nothing makes a new school suck worse than discovering the guy you're in love with is your prophesied nemesis.
Ari is the most powerful flame-throwing sorceress ever, and her people's last hope in an ancient war. But she's also a seventeen-year-old girl, and in her free, not-hunting-nemesis times, she jumps from school to school, trying to figure out regular people her own age and pretending she'll get the chance to graduate.
Shane lives a double life. He goes to school and masters the art of popularity, hiding the fact that he has a fate with a slim chance of his survival. He's destined to end a 300 year-old war by killing or being killed. He knows he's hunted by a powerful enemy who's not afraid to die. Only problem? He has no idea who that enemy is.
When Ari shows up at Shane's school, angry and sullen and determined to keep him at arm's reach, neither of them realize they are supposed to be killing each other, not fall-ing in love. Until Ari does realize it, and she almost dies – by Shane's hand.
Brought to you by TeamNerd Reviewer Annabell Cadiz
Fun SideNote: Both me and Bridget would love a pair of boots like Ari wears on the cover of
Feudlings
! They just scream, "Mess with me and I'll kick you in the balls." *mischievous grin*
Review: I had the pleasure of working with the fabulously fun Wendy Knight during I HEART YA 2012 in July and as soon as I learned about her book from Bridget, I wanted to read it! I usually don't go for the type of romantic stories the synopsis seemed play off, starcrossed lovers, but I was really curious to see how two characters were supposed to fall for each other if they were destined to kill each other, so once my curiosity got the best of me, I threw up nerd love on Wendy Knight in exchange for a copy *hehe*. Feudlings did not disappoint!
Ari is a seventeen-year-old girl with a HUGE burden on her shoulders—she's the Erden Prodigy which means she has to protect her class of magical users, the Erdens. She's also destined to kill or be killed by the Carules Prodigy. A war between both magical houses has been going since forever and Ari has been spending her whole life training, facing off enemies in battle, preparing for the day she would come face to face with her greatest enemy of all. All Ari ever wanted was a normal life and an end to the war between both houses since she was a kid, so she's determined to find the Carules Prodigy and put an end to the war for her family to finally be free, for herself to finally be free. Except Ari hadn't anticipated her enemy would be so close or so dang hot as Shane. She also didn't expect the very friends she comes to trust are also from the Carules house. Ari faces a hard choice: she can finish the war by wiping them all out or she can find a way to change both her fate and Shane's.
I liked Ari right from the beginning. She's a total badass! She's tough, ballsy, fast and sarcastic. I liked that she was confident in herself and brave enough to venture into a fight without hesitation. I also liked that she was flawed. It was hard for her to let her guard down and to let anyone get close to her since she was so use to moving from place to place and having to live a double life. The strain on her emotions showed and it was nice to see Ari's insecurity, that she wasn't good at everything, especially people. It was funny to see how awkward she was when dealing with Shane at times and how freaked out she got when she first started developing feelings for Shane. I also liked her relationship with Hunter. The banter between them was great. I did get tired of hearing Ari talk about how powerful she was though. There was a good amount of repetition with that and it became a bit too much at times.
Hunter is tall, dark, muscle-toned and sexy! He was a fun character to read and I enjoyed seeing his bromance with Shane and how he developed a friendship with Ari. I loved that they became friends through a harsh game of football! Hunter is the Carules Guard to the Prodigy and takes his job VERY seriously, so it was fun when Charity or Ari would help him to loosen up. Hunter is tough on the outside but a big ol' teddy bear on the inside. Charity is sweet and wise. She has a compassionate heart and really cool gifts as a Seer. Shane is the hottest commodity in school; every girl chases him down and Shane is all too happy to comply. That is until he meets Ari. Shane is cocky and a playboy at the beginning but he can't help it since every girl he meets literally throws themselves at him. He is funny and protective of those he loves. He's also charismatic and loyal. But he hasn't had a hard life the same way Ari has. Where Ari had to train every day and be sent on missions to kill the enemy, Shane's been kept hidden and living a life of a normal teenage boy. I like that Ari is able to challenge Shane.
There are also a slew of secondary characters. The most memorable are Nevaeh and Livi. They are super cute and super sweet and entertaining.
I did have a few issues though with Feudlings that I hope get addressed in the coming books in the series. The place where the magical powers that the characters possess came from isn't adequately explained or how exactly the magical abilities work. I gather that they are linked to a person's emotions but I would have a appreciated a more detailed explanation to how the "red flames" of power for the Erden's or the "blue flames" of power for the Carules really worked. I also would have liked to have seen a more involved magical system then just the Council and the Family. This was another place where things weren't adequately explained. There wasn't enough info on either side to really understand why exactly the war between the magical houses was taking place—or maybe I just missed something (that could be possible).
I did really enjoy Ari's relationship with her brother, Will. They are so close and so protective of each other. It was great seeing a relationship between a brother and sister. Will is smart, loveable and more laid back than Ari so it was good to see that difference between the two.
The plot played out pretty well. The buildup to Ari and Shane discovering the truth about each other was done gradually and when the truth is finally revealed, it was heart-wrenching for Ari because of HOW it happened. Man, that was BRUTAL! There were moments I did wonder how Ari didn't notice since Shane did use his gifts openly a few times and she's supposed to be able to see magical traces, so that didn't always come off realistic. But I did like the kinds of different ways Ari and Shane could use their magical abilities, especially how they could shroud themselves to practically become invisible.
I do hope Charity's character is able to grow in the coming books in the series. As much as I enjoyed her sweetheart side and how open and kind she is with everyone, she spent too much of this book in self-doubt and crying. I didn't mind it for the first half because of what was going on but I would hope with what she will be facing in the second book, she is able to grow in confidence in herself and her abilities. I'd like to see her rescue Hunter and Shane for once!
I did like that the romance factor didn't overtake the book. It was present and needed but it didn't overpower Ari and Shane learning the truth about each other and forging their own paths to change what others have already decided for them. I really hope Hunter gets his act together though in the second book and finally confronts Charity about his feelings for her! I get why he kept them a secret and why he doesn't want to pursue them but Hunter would be a better fighter if he'd stop fighting against his emotions.
The ending was bittersweet. I like what happened between Shane and Ari but my heart goes out to Hunter.
Feudlings
was a fun and action packed read! There are some really enjoyable and kick-butt characters along with some really interesting magical abilities! I can't wait to read the next book in the series, especially because I want to see what's going to happen with Charity!
Fans of the urban fantasy genre will have a great time with this book!
"Forgive me for sounding like I'm stuck on repeat, but I. Don't. Care." ~Ari
"Saving damsels in distress is something I try to do at least once a day, and I haven't filled my quota for today. Lost?" ~Shane (to Ari)
"Your particular brand of annoying is not as endearing when it makes me stand around waiting for you." ~Charity
"People have a choice to fight. If no one picks up a weapon, there's no war. No loss of life. It is a personal decision, every time." ~Hunter
"How are you friends again? You're so different. You never talk and he never shuts up." ~Charity (to Hunter about Shane)
"Were you planning on being enthralled with the hallways parallelism again or can I help you find your next class?" ~Shane (to Ari after class)
About the Author:
Wendy Knight was born and raised in Utah by a wonderful family who spoiled her rotten because she was the baby. Now she spends her time driving her husband crazy with her many eccentricities (no water after five, terror when faced with a live phone call, etcetera, etcetera). She also enjoys chasing her three adorable kids, playing tennis, watching football, reading, and hiking. Camping is also big: her family is slowly working toward a goal of seeing all the National Parks in the U.S.
You can usually find her with at least one Pepsi nearby, wearing ridiculously high heel for whatever the occasion may be. And if everything works out just right, she will also be writing.