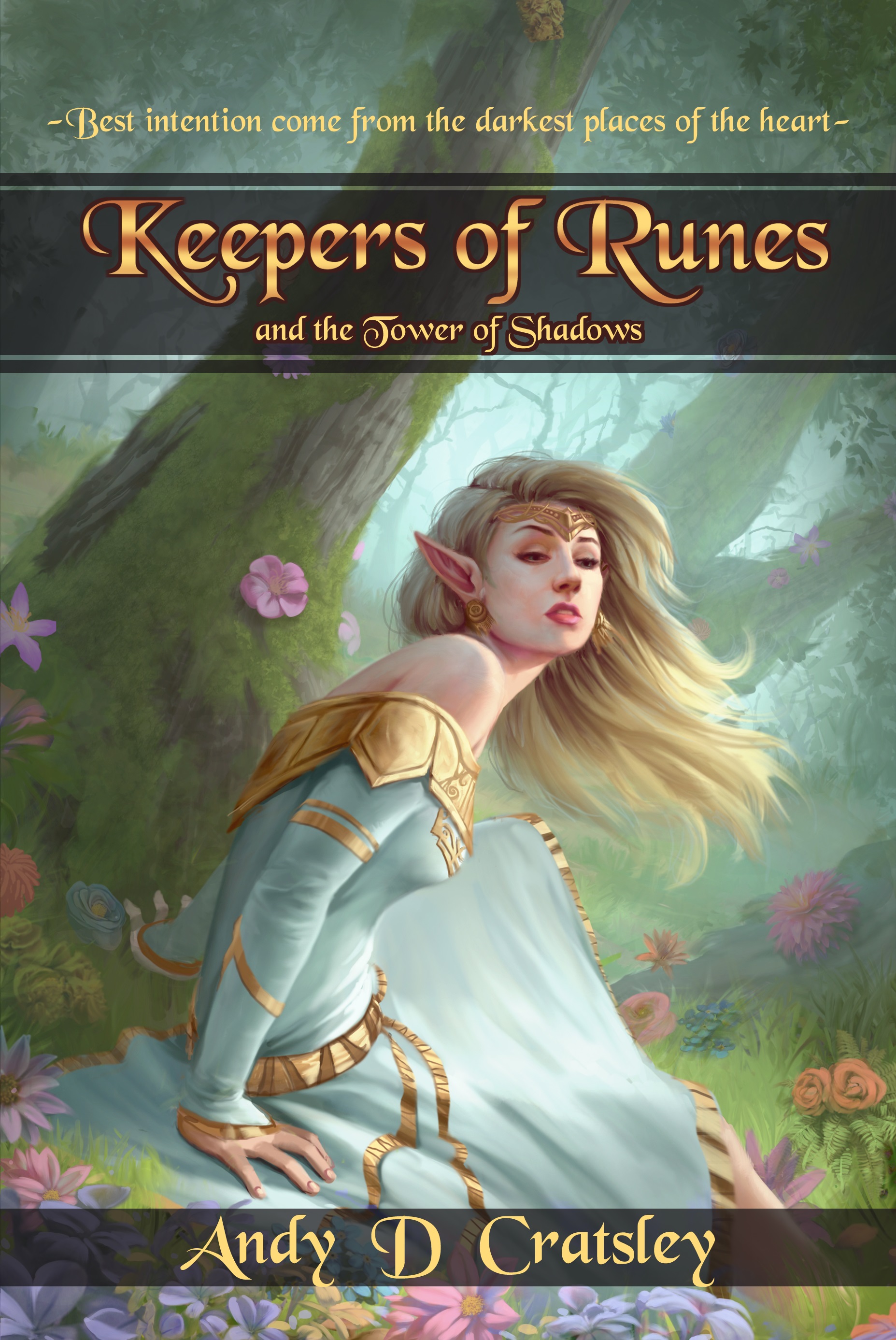 Keepers of Runes and the Tower of Shadows
Synopsis:

At 120 years old, Corinth is young by elf standards. But even as a young elf, Corinth is haunted by his sordid past. When he em

erges from his solitude within the eternal forest around Enzlintine, Corinth is sent away to quell the troubled region plagued by Khalid, the Lord of Conquest. But this will be a journey like no other. Corinth bands together with two curious companions—the human ranger Aventis and the oh-so-spirited Nadine—until the trio is captured by an insidious necromancer, Mortiscet. A vile dark elf who forces the group to help his daughter Rieka find a mysterious object, Mortiscet thrusts the group into increasingly dangerous circumstances. Can Rieka escape the clutches of her wicked and overbearing patriarch? And what will happen when the group launches towards a frigid wasteland in search of the bane of the evil that stalks them? On this perilous journey, they'll have to battle assassins, ominous creatures and the forces of Khalid. Expect the unexpected—because sometimes, the best intentions come from the darkest recesses of the heart...
SNEAK PEEK
Chapter 1: Dawn of a Knight
As the grove shimmered under the gaze of the waning moonlight, the young elf basked in a glowing cloud of fireflies along the trails. A triumphant vigor carried his tired body like the nearby orange fire-burst petals on the wind. Never before had a stroll through the dense forest surrounding Enzlintine been so blissful, and its serenity urged him to lower the hood of his gray cloak. During these rare moments of freedom, the timeless charm of the forest swept away his worries. Leaving the barracks so early was unnecessary, but he was embarrassed by the thought of a late arrival. Not the sort of thing a sage knight should do, and certainly not him.
Heavy fog rolled in and devoured him as he strode deeper into the dense foliage. More knowledgeable of the terrain than most elves, Corinth refused to be deterred after his twenty-seven years of solitude within it. His 120th birthday promised long-desired responsibilities, but the choking mist consumed his elation over attaining adulthood. Although fog was natural in early spring, this sudden onset was peculiar. He knew he was close to the clearing, but the thought of imprisonment within a smoky prism came to mind when he struggled to see his hand in front of his face.
A soft gust whispered into his pointed ears and stopped him in his tracks. Certain no wind had brushed his face, Corinth looked down at his cloak, which hung just as limply as his strong, uneasy hands. The soft forest floor greeted his feet gently as his silver eyes swept his surroundings while he felt his way through. When he noticed his footsteps were unusually muffled, the sounds of nature perished. The cooing of mourning doves, the scratching of nearby brambles against his cloak, and even the pounding of his heart, which threatened to break through his rib cage, no longer reached his keen elven ears.
"Silence spell," he mumbled. With a glance into the warm sky, his anxiety mounted as he wished for the light of the bright moon he knew was overhead. Resting his back against the nearest tree, he brushed his shoulder-length, ebony hair from his forehead and drew his long sword. Since the enchantment around him prevented the use of magic, he wondered if it was the work of Tessius. He dismissed the absurd thought as he considered a more sinister threat might be around him. Wary of the clearing ahead, he stopped at the edge of the tree line and gazed into the eerie place that usually soothed him. A pillar of moonlight illuminated the harsh fog, which swallowed their usual meeting place.
The sharp intake of breath meant to calm him revealed an unnatural scent carried upon the white mist. It was dirty, lacking the fragrance of flowers and pollen, which should have filled the air. He stowed his blade beneath his cloak and held it tightly, since exquisite elven steel shined brighter than silver. It was the first time he regretted this quality of his father's sword.
With a solid defensive stance, Corinth kept his back close to the great oak just outside the clearing. Shadowy distortions appeared in the fog and leaped toward his chest as he gracefully sidestepped them. Anxiety sharpened his senses as he swung instinctively toward the glare of the amber eyes, which bulged when he ripped open the throat of the waist-high menace. A putrid scent filled the air as its pustules ruptured against his steel. He glanced quickly at his feet and found no trace of the dead, wrinkled goblin, which meant it had been conjured.
Walking into the center of the vibrant clearing, Corinth relied on his sight since goblins could easily trace his scent. His fingers tingled with anticipation, and he dared not blink as his silver eyes studied the area. Two dusky blades lashed toward his toned body, followed by more pointed, snarling faces. Slashing forward with all his strength, Corinth parried the rusted short swords and launched one of the blades through the moist air. Although thrown back a couple of paces, he remained on his feet and glared at the fearful creatures. The goblins stared wide eyed at him when they landed, unable to compensate for his speed. After impaling the wrinkled forehead of the one to his left, he turned his steel and swept it to his right without pause. His lustrous blade cleaved through the other creature's rib cage as it attempted to retrieve its weapon. Narrowly evading the cold, iron weapon at his feet, Corinth felt the rusted edge scrape his boot. Restlessness clenched his chest when he studied the area, wondering from where the next strike would emerge.
A reflection loomed in Corinth's blade, enticing him to spin around with a blind swing. His sword clashed awkwardly against the corroded iron, and he stared down at the toothy grin of the crazed goblin who parried his attack. The small, fanatical menace scraped its steel along Corinth's weapon with surprising strength before Corinth could recover his slackened grip on the hilt. The goblin stared gleefully at his elven steel as it tumbled through the air. Kicking it across the bridge of its long, pointed nose, Corinth staggered when another creature leaped onto his back. He struggled to pry away the stubby, strong arms that grappled his neck as the flat of a blade slammed into the back of his knee. Tears poured from his eyes as he fell backward to the soft forest floor. The goblin on Corinth's back swung around his neck and landed gracefully on his chest as Corinth hit the ground. Anger and terror ravaged his fit body as the tidal wave of creatures swallowed him from all sides.
After punching the devilish monster straddling him, Corinth sat up as it fell unconscious between his legs. Sharp blades poked his back before he could scramble to his feet, and a fierce kick to the ribs knocked him prone again. Sound returned with a surge of the hideous laughter of the goblin pack that towered over him as they pointed their swords at his angry face.
"Cowardly beasts!" Corinth sneered through gritted teeth.
"That is enough," Tessius said as he calmly walked into view. The remaining creatures parted to allow him to approach. His long fingers stretched out, and his arm made a polite sweeping motion.

"Un-accersi." The creatures growled as they vanished, and the fog lifted. With a swish of his large hand, Tessius pulled down his brown hood, and his web of hazelnut braids fell neatly against his back. He smiled down at Corinth with his usually kind expression and extended his open hand.
"That was very good," he said. "Can you stand?"
Nodding, Corinth accepted his master's hand grudgingly. This was yet another training session, and he had failed what was perhaps his last test of skill. With a strong grip, Tessius squeezed Corinth's shoulder as he walked toward the stone bench near the center of the clearing. Corinth gazed hopefully at his master for an explanation, while his pulse raced at the thought of this mockery before he looked at the ground, feeling mutinous.
ABOUT THE AUTHOR
A native of Honeoye, New York, Andrew Cratsley lives in North Carolina.
Keepers of Runes and the Tower of Shadows
is his debut novel. Cratsley is a lifelong fan of fantasy books, films, and RPG-style gaming. A champion of literacy issues and proud supporter of the World Literacy Foundation, Cratsley will donate a portion of the proceeds from
Keepers of Runes and the Tower of Shadows
to the World Literacy Foundation's fight against illiteracy. Cratsley is currently at work on book two in the series,
Keepers of Runes and the Rise of Khalid.
Website
/
Twitter
/
Facebook
TOP TEN FAVORITE MALE LEADS FROM FANTASY BOOKS
Severus Snape from Harry Potter– This character definitely deserves recognition. There is depth and complexity here, and his development is both logical and understood. Although we had to wait until book 7 to fully realize the scope of Snape it was worth it.
Hellboy – I felt this hero was a breath of fresh air when this film hit the screen. This action packed story had an unusual main character. His rough attitude could relate to any person who has lost patience with the norms of society.
Robin Hood – Kevin Costner's role for this classic story brings back a lot of memories during Hollywood's glory days. It was a fine performance and stood out in the midst of many great films at the time.
The Goblin King from Labyrinth- I feel old mentioning it, but I wanted to delve into the archives a bit and remember David Bowie's performance of this well developed trickster, who teaches the young main character to be careful what you wish for.
Draco from Dragonheart- Another classic that took a classic creature and gave it depth with personality. It was the first film I can think of that gave dragons real intelligence, similar to the famed RPG "Dungeons and Dragons". A pity this character couldn't survive for a sequel.
Voldemort from Harry Potter- My dark mind has a soft spot for the villain who was created by cold, uncaring society. Again logical even though Riddle would likely be a criminal with a normal childhood.
Captain Jack Sparrow- How do you not like Captain Jack? All in all a decent character, but he's a pirate and you never know which side of the fence he's on.
The vampire Lestat – Most would agree that an arrogant main character holds little appeal to the average reader. This character on the other hand is one that is hard to ignore. He's intriguing despite his quirky demeanor, which labels him as a spoiled child among his elders.
Aragorn for Lord of the Rings – A solid character with a rich history and the makings of a true hero. The actor did a fine job of portraying the humility and bravery of Aragorn.
Gimley from Lord of the Rings - I love good comedy relief in any fantasy story and the banter between him and Legolas is engaging, but I must award the funnier of the two to the dwarf.