IT. IS. FINALLY. THAT. TIME!!!
Today is the day three books come out we've been DYING to come out:
Magonia by Maria Dahvana Headley
The Girl At Midnight by Melissa Grey
We are TOTES getting a copy of each ASAP!!
You should too *nudge nudge*
Magonia
Synopsis:
Aza Ray is drowning in thin air.
Since she was a baby, Aza has suffered from a mysterious lung disease that makes it ever harder for her to breathe, to speak—to live.
So when Aza catches a glimpse of a ship in the sky, her family chalks it up to a cruel side effect of her medication. But Aza doesn't think this is a hallucination. She can hear someone on the ship calling her name.
Only her best friend, Jason, listens. Jason, who's always been there. Jason, for whom she might have more-than-friendly feelings. But before Aza can consider that thrilling idea, something goes terribly wrong. Aza is lost to our world—and found, by another. Magonia.
Above the clouds, in a land of trading ships, Aza is not the weak and dying thing she was. In Magonia, she can breathe for the first time. Better, she has immense power—and as she navigates her new life, she discovers that war is coming. Magonia and Earth are on the cusp of a reckoning. And in Aza's hands lies the fate of the whole of humanity—including the boy who loves her. Where do her loyalties lie?
Rook
Synopsis:
History has a way of repeating itself. In the Sunken City that was once Paris, all who oppose the new revolution are being put to the blade. Except for those who disappear from their prison cells, a red-tipped rook feather left in their place. Is the mysterious Red Rook a savior of the innocent or a criminal?
Meanwhile, across the sea in the Commonwealth, Sophia Bellamy's arranged marriage to the wealthy René Hasard is the last chance to save her family from ruin. But when the search for the Red Rook comes straight to her doorstep, Sophia discovers that her fiancé is not all he seems. Which is only fair, because neither is she.
As the Red Rook grows bolder and the stakes grow higher, Sophia and René find themselves locked in a tantalizing game of cat and mouse.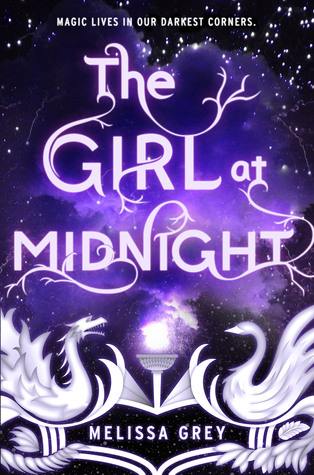 The Girl At Midnight
Synopsis:
Beneath the streets of New York City live the Avicen, an ancient race of people with feathers for hair and magic running through their veins. Age-old enchantments keep them hidden from humans. All but one. Echo is a runaway pickpocket who survives by selling stolen treasures on the black market, and the Avicen are the only family she's ever known.
Echo is clever and daring, and at times she can be brash, but above all else she's fiercely loyal. So when a centuries-old war crests on the borders of her home, she decides it's time to act.
Legend has it that there is a way to end the conflict once and for all: find the Firebird, a mythical entity believed to possess power the likes of which the world has never seen. It will be no easy task, but if life as a thief has taught Echo anything, it's how to hunt down what she wants . . . and how to take it.
But some jobs aren't as straightforward as they seem. And this one might just set the world on fire.
Also, BIG HAPPY BOOK BDAY SHOUTOUT to: