A Thousand Nights
Author: E.K. Johnston
Synopsis:
Lo-Melkhiin killed three hundred girls before he came to her village, looking for a wife. When she sees the dust cloud on the horizon, she knows he has arrived. She knows he will want the loveliest girl: her sister. She vows she will not let her be next.
And so she is taken in her sister's place, and she believes death will soon follow. Lo-Melkhiin's court is a dangerous palace filled with pretty things: intricate statues with wretched eyes, exquisite threads to weave the most beautiful garments. She sees everything as if for the last time. But the first sun rises and sets, and she is not dead. Night after night, Lo-Melkhiin comes to her and listens to the stories she tells, and day after day she is awoken by the sunrise. Exploring the palace, she begins to unlock years of fear that have tormented and silenced a kingdom. Lo-Melkhiin was not always a cruel ruler. Something went wrong.
Far away, in their village, her sister is mourning. Through her pain, she calls upon the desert winds, conjuring a subtle unseen magic, and something besides death stirs the air.
Back at the palace, the words she speaks to Lo-Melkhiin every night are given a strange life of their own. Little things, at first: a dress from home, a vision of her sister. With each tale she spins, her power grows. Soon she dreams of bigger, more terrible magic: power enough to save a king, if she can put an end to the rule of a monster.
Brought to you by TeamNerd Reviewer Annabell Cadiz
Book Review:
I loved how different A THOUSAND NIGHTS was from many other Young Adult novels I am used to reading. I loved being able to explore a different culture and a different world. The writing was exquisite and beautiful. The world building of the desert and its people was fleshed out with detail and appreciation. You fall in love with the desert and the quiet, almost reverent power held within. The culture of the people who make their homes and lives in the desert was very interesting to discover and the unity shared by the desert people was a wonderful element to the story.
I also really loved the unity between the main character and her sister. They share such an intimate, supportive, loving bond and it was so refreshing to read. They truly, unconditionally love one another and in there own ways, fight against the darkness of the king. One to save her sister from a marriage she was forced into, the other to save not only her family but a king possessed by darkness. It is the unity of the two sisters that you fall in love with the most. This isn't about a girl falling in love with a king to set him free. This is a story about a love of two sisters that changed everything.
But the story is not without its faults . . .
Even though I didn't mind that none of the characters—outside of the king, Lo Melkhiin—had names, it became quite bothersome after some time. I liked that the characters didn't have names because the story makes you focus on the ones who are often overlooked, to the wisdom and power and beauty they hold. It forces you to see the cast of characters as a whole where each has a significant function and how interconnected they are, even as strangers. BUT the book refers to characters such as "my father's father's father" or "my sister's mother" or "Lo-Melkhiin's mother" so many times, it grows very tiring after the first few chapters. Characters being referred to as such so often interrupts a reader's ability to stay connected to the story itself.
The plot barely exists. The book opens with urgency and panic as Lo-Melkhiin rides into the desert town to choose a new bride. The main character sacrifices herself on behalf of her sister and is taken away across the desert she loves to a small kingdom where a king will decide how long she lives. But as soon as the main character arrives to her new home, the story completely slows down and painstakingly slow unfolds the truth of what happened to the king and the changes taking place inside the main character. The main character is meant to be kept alive by telling stories to Lo-Melkhiiin. Every night he goes to her room and asks for another story about her sister (since they are so close). He only ever touches her to exchange the weird, mystical power growing between them. But none of the stories the main character told were powerful or meaningful enough to keep her alive. Outside of the king-demon being interested in the power growing inside of the main character, there really was no reason to care about the stories she told.
A majority of the book deals with the main character remembering life in the desert with her family. There are moments where the main character develops and experiences the power growing inside of her since her sister had made her into a smallgod. And there are scenes where she explores small parts of the palace and has short audiences with the king. But until 90% of the book is done, nothing much happens. The ending feels abrupt.
If you enjoy a story that slowly builds with lavish descriptions and centered more around family than romance, I would recommend giving this book a chance.
About the Author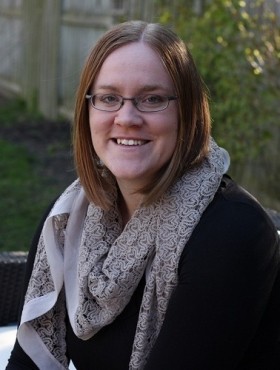 E.K. Johnston had several jobs and one vocation before she became a published writer. If she's learned anything, it's that things turn out weird sometimes, and there's not a lot you can do about it. Well, that and how to muscle through awkward fanfic because it's about a pairing she likes.
Where to Find E.K. Johnston