Thank you Netgalley for providing me with the copy of this book in exchange for an honest review.
Synopsis:
Jade loves the house she's just moved into with her family. She doesn't even mind being the new girl at the high school: It's a fresh start, and there's that one guy with the dreamy blue eyes. . . . But then things begin happening. Strange, otherworldly things. Jade's little brother claims to see a glimmering girl in his room. Jade's jewelry gets moved around, as if by an invisible hand. Kids at school whisper behind her back like they know something she doesn't.

Soon, Jade must face an impossible fact: that her perfect house is haunted. Haunted by a ghost who's seeking not just vengeance, but the truth. The ghost of a girl who ruled Jade's school — until her untimely death last year. It's up to Jade to put the pieces together before her own life is at stake. As Jade investigates the mystery, she discovers that her new friends in town have more than a few deep, dark secrets. But is one of them a murderer?
Brought to you by TeamNerd reviewer Bridget Strahin
Review:
Jade and her family, her dad, step-mom and half brother, move to a new town into the house of Jade's dreams. Jade has to start at a new high school, which she's completely okay with. The kids aren't exactly welcoming but Jade isn't too concerned. What she is concerned about however, is the weird looks and whispers behind her back. People stare at her while they talk in hushed voices or they point at her from across the hall. As it turns out, the popular girl of her new school died in Jades new house. To make matters worse, the angry ghost of the mean popular girl is haunting her and possessing her little brother to manipulate Jade into finding her killer. Jade will do anything to protect her family, so she has to earn the trust of Kayla's circle of friends and pick apart everyone's motive for killing. Along the way she finds unexpected friendships, love, and finds out the hard way that everyone has something to hide.
I really enjoyed The Dead and Buried. I thought the story was suspenseful and intriguing. Jade was well written and well developed. I liked how she was struggling to come to terms with her new family situation and how she kept her dead mother close by collecting gem stones, just like her mother used to. I also liked how smart she was and how she paid attention to the people around her and didn't just jump to conclusions about the who and the why Kayla was killed. There was obvious growth in Jade's character, which made her believable and relatable as a normal teenage girl. Well, as normal as a teenage girl trying to protect her family from a revenge seeking, spiteful, ghost can be.
Harrington definitely has a winner on her hands here. This book is full of twists and turns and crazy secrets that will have you wondering who the killer is all the way to the end. I had my suspicions from the first couple of chapters and was pretty excited when I was right at the end but, if I hadn't been so used to these kinds of books already, then I wouldn't have thought to think outside the box. The killer isn't predictable at all.
Overall, I'd recommend this book to everyone. The Dead and Buried is dark and gripping, with likeable characters and a plot that shows you just how far a person can go when desperate enough. This book will keep you captive until the very end and I can't see anyone being disappointed after read it.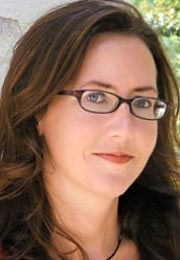 Author Bio

:
Kim Harrington is the author of the

Clarity

series for teens and the

Sleuth or Dare

series for kids. She lives in Massachusetts with her husband and son. When not writing, she's most likely reading, watching one of her favorite TV shows, or fantasizing about her

next

vacation. Her first book,

Clarity

, received a starred review from Publisher's Weekly, was a 2012 ALA Quick Pick for Reluctant Readers, sold to nine countries, and was optioned for television by Warner Brothers.