Author Bio:
At five years old, Tess was walking down a gravel path and saw that one of the rocks had been kicked away into the grass, all alone. She was instantly upset, cradled the poor rock in her hands and returned it to it's family of fellow rocks. She told me a story then, of how the rock had come to be all alone, complete with romance, intrigue, and betrayal. She was never without a book. And had read the complete Lord of the Rings Trilogy four times before the age of thirteen.
It is with this kind of imagination, passion, and love for stories, that Tess now writes her young adult fantasy novels. She began writing her first novel, Ember, at age sixteen and hasn't stopped since. She is currently working on her seventh book, having just finished the "Fallen Trilogy"
She lives in Burlington, North Carolina. Loves to eat Cinnamon rolls, and drive her electric blue Kawasaki Ninja.
Where to Find the Author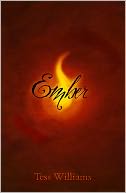 Synopsis:
Evelyn is one girl amidst hundreds of sword wielding, demon fighting, magic casting… boys.
Insecurity and logic have always kept the wild, adventurous spirit of seventeen year old Evelyn Avest stuck in her home town of Tiver. Now, with the Order, an all male fighting league, she finally feels like she's found her place. If she wants to stay she'll have to prove her worth as a magic Artisan. The problem is, the only one who can teach her to do that is one particularly infuriating, exasperating, cocky, self absorbed, gorgeous, powerful, hot, well… Jerk. A war is coming, and in the end, the girl who should not be there… will become the only answer.
Synopsis:
Cold. Dry. Dead.
That's all I can think, the only thought I can hold.
I'm dead. This is right... that's what I said I'd do…

Evelyn Avest, the girl who didn't belong, was the only hope for the people and the world she loved. So she gave everything. But no light can survive the dark world of Fera.
Now it's Ikovos and Jaden who venture where they shouldn't. But will the boys who don't belong be Fera's only hope, or it's destruction.
Synopsis:
She's the perfect princess, he's the resident bad boy, they've always had each other. Their loyalty is about to be tested.
When the peaceful kingdom of Shaundakul is betrayed by its allies, Princess Ellia Solidor and her protector, Cyric Dracla, are taken into slavery to the kingdom of Akadia. Their only goal is to stay safe, and stay together. But in this new land that values power over everything, all Ellia can see is the captivity of her people, while Cyric sees a chance to finally become the great warrior he was never allowed to be. Temptation becomes betrayal, and Ellia must travel to the legendary Isle of Yanartas to gain the ability to defeat the dark power her best friend has become.
Synopsis: Best friends and near lovers, Ellia and Cyric, find themselves on opposing sides of a war. Regardless, they remain bound, by loyalty and memories of their past, to protect each other. But now Cyric has become a Murderer, Captor, and Lieutenant of the Akadian army. The discovery of the Constellation Animals, a great and ancient power, may be the only chance against Akadia. Ellia's duty is to her people, to the side of good. Her duty is to destroy Cyric and Akadia with him. When loyalty and duty conflict with each other… who will pay the price?