About the Author:
Helen Boswell is originally from upstate New York. She obtained her Ph.D. in Biological Sciences from the University at Buffalo and currently teaches biology at Southern Utah University. She enjoys playing with her two little boys, camping, gardening, eating large bowls of ice cream after the kids go to bed, and hanging out on the couch with her husband to watch Breaking Bad, Louis CK, and Wilfred -- and of course, writing.
Where to Find the Author
About Mythology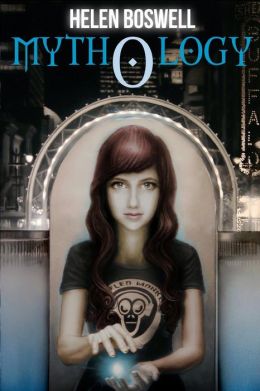 Synopsis:
Hope Gentry doesn't believe in Fate. Born with an unusual power to see the dark memories of those around her, Hope just wants to be a normal teenager. But on the first day of her senior year of high school, she finds herself irresistibly drawn to a transfer student named Micah Condie. At first glance, Micah seems like a boy that most girls would dream about. But when Hope's powers allow her to discover Micah's darkest secret, she quickly becomes entangled in the lives of mythical entities she never dreamed existed. Was this her destiny all along? And will her powers help her survive the evil of the Demon Impiorum?
Mythology isn't just for English class anymore.
Check out on Goodreads!
Purchase on Amazon, Barnes and Noble, and Kobo.
Guest Post by Helen Boswell
Topic: Why the Bad Boy Can Also Be the Good Boy.
Male characters are usually portrayed two ways: either the good guy who looks hawt, has manners, fights against evil and chooses the light or the bad hawt bad boy who is sarcastic, rude, and a player. But there are books coming out, such as yours that showcase the male character as a mixture of the two. Why do you think it
'
s important to change the way we write and view male characters in books, not only for authors but for the readership?
Helen Boswell: One one level, I understand how the good boy-bad boy dichotomy appeals to some readers (I mean, I do write urban fantasy, after all). One one extreme is that good boy-type who would be perfect for bringing home to a dinner with your parents and who saves the day with flair. And on the other extreme is that bad boy with the "reputation" who wouldn't be the ideal guest for your family picnic but has the air of the forbidden (and for some, being "forbidden" makes him that much more desirable). But just as no one is perfect in real life, no male can be the perfect good boy or the perfect bad boy. Everyone, including the good boy, has vices, faults, and things he struggles with. Everyone, including the bad boy, has specific things that make him vulnerable, lovable, or yes, even NERDY! ;) In my humble opinion, readers always benefit from seeing the multiple facets of characters, to see how they mesh or conflict, see how they grow and develop, to see their faults and complexities. So bring on the good boys that have character faults. And the bad boys with golden qualities.
My Micah is showcased as a good bad boy - he has a "reputation" and a darkness within him (and he is hawt, yes!), but he also has a conscience, is very open about his feelings, and is very concerned with how his actions affect others. If you meet him in MYTHOLOGY, you might be tempted to hop on the back of his bad-boy motorcycle and bring him home to meet mom.
Interview with Author Helen Boswell
Author Helen Boswell sits down to chat about what makes her part of the nerd team, the concept behind the first book in the Mythology Series, the characters, and what the name of the ice cream she would she choose if their was a flavor made up inspired by the book.
TeamNerd Reviews: As declared by the name of our site, we are HUGE fans of all things nerd related (well, most things anyway *hehe*). What would you say defines you as a nerd?
Helen Boswell: How am I NOT a nerd, is the question? ;) I think my biggest quality of nerddom is my total love for anything related to The Princess Bride. And also, my passion for learning new things all of the time.
TeamNerd Reviews: You helm from upstate New York and now live in Utah where you teach. What are some major differences between living in the two places that surprised you the most when you moved? What do you love about each state?
Helen Boswell: Wow. Where to begin? Upstate New York was primarily a liberal environment, Utah is a very conservative state. The pace of New York is more frantic, Utah is more laid-back. Along with that, what I loved most about New York that there were always lots of places to go, people to see, things to do. While I miss that at times, I love the outdoorsy aspect of living in Utah, with its big blue sky, lots of open space, and sunshine.
TeamNerd Reviews: You have a Ph. D. in Biological Sciences which definitely makes you a proud nerd ;) What drew you to working toward that degree?
Helen Boswell: Mostly momentum. ;) I liked biology in high school, majored in it in college, and then just fell into that perpetual student mode where I decided to go as far as I could to get my Ph.D. Along the way, I found that I was a good teacher and so wound up using it to land a professor position at a university.
TeamNerd Reviews: Having two sons (William and Noah) under the age of six can definitely be both demanding and inspiring. Would you ever write a story centered around two brothers that could act as inspiration from your sons? Or do you already plan to?
Helen Boswell: Oooh, I honestly wasn't planning on one, but now that you've brought it up, I think THAT would be an excellent basis for a story. I am often awed by the dynamics of brothers in watching my sons, even at this young age. I'm glad that they'll have each other for life.
TeamNerd Reviews: Mythology explores the ability to see people
'
s darkest secrets. If you could peer into any author
'
s aura and see his or her secrets, who would you choose? What do you imagine you
'
d discover?
Helen Boswell: Hmmm.... Good one! When I was writing Mythology, I was greatly inspired by Kendare Blake, author of Anna Dressed in Blood and Girl of Nightmares, more because of the authenticity of her main character Cas Lowood than any similarities in our genres or stories. So perhaps I'd peer into her aura. I'd expect to see some pretty horrific secrets involving ghosts, and I'd be a little bit sad if I didn't.
TeamNerd Reviews: Hope is the one with the ability to see people
'
s secrets. How did you come up with the concept behind her gift and what was it about secrets that drew you to using that element as part of the concept to Mythology?
Helen Boswell: Originally, I'd written Hope as being able to see auras and sense the emotions of the owner. But a friend (Chris Farnsworth, author of the Nathaniel Cade vampire series) stroked his chin at that and said something to the effect that he lives in L.A., where everyone and his/her mother claims to be able to see auras. He was the first one to suggest pushing Hope's abilities to the limits. I eventually decided on dark secrets because it fit in nicely with the dark/evil demon element of the story. Plus, meeting Micah and not being able to see his secrets was a perfect way to get Hope interested in the new boy in school.
TeamNerd Reviews: Micah is not exactly the hero in the old fashioned standard sense of the word. He
'
s a demon with a heart and a conscience. What would you say Micah brings to the table as a hot male lead, that maybe many other male characters don
'
t or haven
'
t yet?
Helen Boswell: As you so aptly pointed out, Micah has a heart and a conscience as well as a high standard of ethics. But he struggles with a huge internal conflict most hours of most days because of what he is. You'll get to see this even more in the sequel, which is written from both Hope and Micah's POVs! So as a hot male lead, I hope that readers will be taken in by the ooey-gooey sweet side of him and because of that, root for him to conquer his darkness. Root for him and give him a squeeze. Go on ;)
TeamNerd Reviews: Humor is very present throughout Mythology. Why do you think humor is such an important element to a story?
Helen Boswell: Personally, I enjoy finding humor in books, particularly when there is a lot of tension and other not-so-humorous issues that are elsewhere in the story. I always view a good story as one that swings you from highs to lows and lows to highs. Having humor interjected throughout helps to break up a little bit of that tension. And also, thank you for recognizing/appreciating the humor. Some of my friends think I'm not just a nerd but also a bit of a dork and therefore don't share my idea of what is funny ;)
TeamNerd Reviews: Out of the characters from Mythology, who was the most fun to write and why? Who gave you the most difficulty and why?
Helen Boswell: Jonathan was the most fun, mostly because he's so distinctively out of his element. Five hundred years and counting and sometimes he really acts like a Luddite. Hope was probably the most difficult, just because she has a million things going through her head at once (sometimes literally), and I had to pin her down in her narratives much more than the others.
TeamNerd Reviews: Since you are a huge fan of ice cream (as our we! *fist bump*), if you could create your own ice cream flavor to fit Mythology, what would it taste like?
Helen Boswell: YESSSS *fist bump* I would name my ice cream flavor "Demon Dream." Taste? You'd feel as though your soul is in danger from how sinfully rich it is (t
here would be lots and LOTS of chocolate involved).
Enter to win a SIGNED paperback copy of Mythology!
a Rafflecopter giveaway